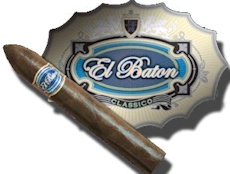 EL BATON CIGARS by J.C. Newman
- Mucho Flavor Little Dinero
El Baton is one of J.C. Newman's original historic brands that has been reintroduced as a handmade Nicaraguan cigar.
Once you smoke just one El Baton Cigar, you will quickly take note that it is a different blend from anything J.C. Newman currently has in their product line-up. It is a fuller bodied cigar with the impact and flavor you might experience from a cigar at twice the price. Nicaraguan tobacco is the tobacco of choice from spicing up the blend. Nicaragua offers some of the richest soil and favorable growing conditions for hearty, full-bodied tobacco, appealing to connoisseurs who like hearty smokes.
About J.C. Newman Cigar Co.
Tampa, Florida's celebrated heritage as the Fine Cigar Capital of the World lives on at J.C. Newman Cigar Company. J.C. Newman Cigar is America's oldest family-owned premium cigar makers, and also the last operating cigar factory in Cigar City. With a portfolio of famous brands beloved by cigar lovers the world over, we offer cigars for every taste profile and every budget. From the ultra-premium Diamond Crown and Diamond Crown MAXIMUS to Cuesta-Rey, La Unica, Brick House, El Baton, to our value-priced Quorum and Factory 59's, these brands are instantly recognizable to cigar aficionados everywhere.

Click the Cigar Babes Butt to See a BIG ASS LIST of ALL the Cigars we Carry
at OldHavanaCigar.com
El Baton Double Toro

Availability: 51 Sticks IN Stock

Packaged In: Single Stick, 5 and 10 Packs
Also Packaged In: Box of 25

Size:
6 x 60

Shape:

Toro
Country:
Nicaragua
Flavor:
Medium to Full Bodied
Binder:
Nicaraguan
Filler:
Nicaraguan
Wrapper:
Colorado Maduro

Buy 1 for

$5.80

each.

Buy 5 for

$5.20

each.

Steve's Smoking Low Price:
10 for Only

$5.15

each.



Mucho Flavor and Little Dinero

Taste Profile: Complex, nutty cigar with a bold spicy flavor. Touches of oak and black pepper with leathery transitions of mocha and pepper. Consistent full-body with pleasant surprises throughout.

Click HERE to Learn More about... El Baton - Double Toro cigars.

Availability: 2 Boxes IN Stock

Buy a Full Box Packaged In: Box of 25

Everyday Low Price:

$126.90



Add to Wishlist Add to Compare eMail a Friend
El Baton Robusto

Availability: 27 Sticks IN Stock

Packaged In: Single Stick, 5 and 10 Packs
Also Packaged In: Box of 25

Size:
5 x 54

Shape:

Robusto
Country:
Nicaragua
Flavor:
Medium to Full Bodied
Binder:
Nicaraguan
Filler:
Nicaraguan
Wrapper:
Corojo

Buy 1 for

$4.95

each.

Buy 5 for

$4.45

each.

Steve's Smoking Low Price:
10 for Only

$4.40

each.



Mucho Flavor and Little Dinero

Taste Profile: Complex, nutty cigar with a bold spicy flavor. Touches of oak and black pepper with leathery transitions of mocha and pepper. Consistent full-body with pleasant surprises throughout.

Click HERE to Learn More about... El Baton - Robusto cigars.

Availability: 1 Box IN Stock

Buy a Full Box Packaged In: Box of 25

Everyday Low Price:

$108.75



Add to Wishlist Add to Compare eMail a Friend