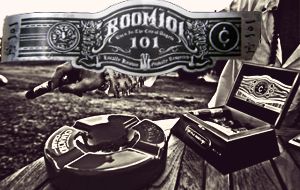 ROOM 101 by Camacho Cigars
the Premier Lifestyle Brand for Quality with an Edge
The Room 101 Collection is a blend of attitude, culture, celebrity, and some of the world's finest tobaccos. Specially blended by Camacho, the Room 101 cigar is a luxurious cigar handsomely and artistically packed in six formats, each box holds 25 cigars all representing different area codes.
Room 101 Cigars are produced by Camacho Cigars which is now part of the Oettinger Davidoff Group.

Click the Cigar Babes Butt to See a BIG ASS LIST of ALL the Cigars we Carry
at OldHavanaCigar.com