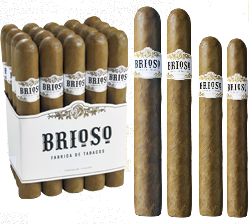 BRIOSO CIGARS
by General Cigar
Aged to perfection, Brioso cigars are expertly handcrafted according to the precise standards that continue to make General Cigar products the go-to brands of today's knowledgeable smoker.
Blend
Brioso features a blend of Dominican seco and ligero tobaccos which are married to a Nicaraguan and Mexican blend. A brawny Connecticut Habano binder ensures an even burn and allows the Honduran Jamastran wrapper to reveal its subtle flavor.
This lively smoke is surprisingly mild and ideal for any occasion that calls for a handmade cigar.

Click the Cigar Babes Butt to See a BIG ASS LIST of ALL the Cigars we Carry
at OldHavanaCigar.com
Brioso Gigante

Availability: 35 Sticks IN Stock

Packaged In: Single Stick, 5 and 10 Packs
Also Packaged In: Box of 20

Size:
6 x 60

Shape:

Corona Gorda
Country:
Dominican Republic
Flavor:
Medium Bodied
Binder:
Dominican
Filler:
Dominican
Wrapper:
Colorado Claro

Buy 1 for

$3.20

each.

Buy 5 for

$2.90

each.

Steve's Smoking Low Price:
10 for Only

$2.85

each.



Brioso Gigante is a handcrafted cigar made specifically for the frequent cigar smoker.
Click HERE to Learn More about... Brioso - Gigante cigars.

Availability: 3 Boxes IN Stock

Buy a Full Box Packaged In: Box of 20

Everyday Low Price:

$55.95



Add to Wishlist Add to Compare eMail a Friend
Brioso Gigante Maduro

Availability: 24 Sticks IN Stock

Packaged In: Single Stick, 5 and 10 Packs
Also Packaged In: Box of 20

Size:
6 x 60

Shape:

Toro
Country:
Dominican Republic
Flavor:
Medium Bodied
Binder:
Habano Connecticut
Filler:
Mexican, Nicaraguan
Wrapper:
Honduran, Maduro

Buy 1 for

$3.20

each.

Buy 5 for

$2.90

each.

Steve's Smoking Low Price:
10 for Only

$2.85

each.



The Brioso Cigar made by General Cigar is surprisingly mild and ideal for any time of the day.
Click HERE to Learn More about... Brioso - Gigante Maduro cigars.

Buy a Full Box Packaged In: Box of 20

Everyday Low Price:

$55.95

Boxes are Out of Stock



Add to Wishlist Add to Compare eMail a Friend
Brioso Robusto

Availability: 20 Sticks IN Stock

Packaged In: Single Stick, 5 and 10 Packs
Also Packaged In: Box of 20

Size:
5 x 50

Shape:

Robusto
Country:
Dominican Republic
Flavor:
Medium Bodied
Binder:
Dominican
Filler:
Dominican, Mexican, Nicaraguan
Wrapper:
Colorado Claro

Buy 1 for

$2.70

each.

Buy 5 for

$2.45

each.

Steve's Smoking Low Price:
10 for Only

$2.40

each.



Brioso Robusto is a handcrafted cigar made specifically for the frequent cigar smoker.
Click HERE to Learn More about... Brioso - Robusto cigars.

Availability: 1 Box IN Stock

Buy a Full Box Packaged In: Box of 20

Everyday Low Price:

$47.80



Add to Wishlist Add to Compare eMail a Friend