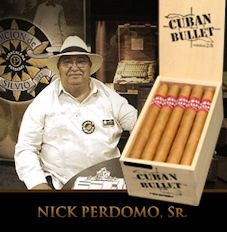 CUBAN BULLET CIGARS by Perdomo - Quality, Tradition and Excellence Generation to Generation
Tabacalera Perdomo the makers of the Cuban Bullet is a company built on three distinct pillars: quality, tradition and excellence. With an unparalleled attention to detail and a commitment to greatness that's been handed down generation to generation, Perdomo makes many of the finest, premium, handrolled cigars in the world - They've created an ongoing legacy of distinction.
Perdomo Cuban Bullett
The Cuban Bullet Version 2.0 consists of all long-filler Nicaraguan tobaccos which offer an arsenal of flavor at extremely affordable prices.
Whether you select the mild-to-medium bodied Connecticut, the medium-to-full bodies Cuban Seed, or the medium-to-full bodied Maduro, each blend delivers a well-balanced smoking experience.

Click the Cigar Babes Butt to See a BIG ASS LIST of ALL the Cigars we Carry
at OldHavanaCigar.com