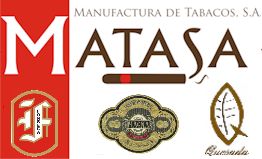 QUESADA CIGARS
Manufactura de Tabacos S.A., known by the acronym MATASA, is a family-owned factory based in the Dominican Republic that specializes in the manufacture of premium cigars. It is best known brand is the Quesada Cigars, Casa Magna and Fonseca line of cigars. Its current president and owner is Manuel "Manolo" Quesada, Jr.
Quesada Family
The Quesada family has been a part of the tobacco world for over a century. When they first arrived in Cuba from Spain they were bakers. It was in the late 1800s that they began their tobacco business when a debt to the family was paid with tobacco. Antero Gonzales and his brother Constantino started a leaf purchasing company, working as tobacco brokers.
The Company Today

Manolo Quesada assembled a new management team around him which included general manager Julio Fajardo, Manolo's brother Alvaro, who as vice president was in charge of the company's farms and fledgling cigarette operation, and his nephew Alvarito. Unfortunately, in April 2002 a plane crash took the lives of all three, leaving Manolo to run the company.
Today Manolo Quesada works with two daughters — Patricia, who handles the company's administration, and Raquel, who helps run the factory. As well as niece Esther and nephews Hostos, Terence and Jose aka Blondy.
More than 300 people work in MATASA's Santiago manufacturing facility. The company produced approximately 15 million cigars in the year 2000.
The company's best-selling brands are Quesada Cigars, best known in the medium to full bodied segment and Fonseca (non-Cuban version), a brand best known for products in the mild-to-medium segment of the taste spectrum.

Click the Cigar Babes Butt to See a BIG ASS LIST of ALL the Cigars we Carry
at OldHavanaCigar.com
Quesada QUESADA TRIBUTO JULIO

Availability: 32 Sticks IN Stock

Packaged In: Single Stick, 5 and 10 Packs
Also Packaged In: Box of 24

Size:
5 x 50

Shape:

Robusto
Country:
Nicaragua
Flavor:
Medium Bodied
Binder:
Honduran
Filler:
Dominican, Nicaraguan Ligero
Wrapper:
Corojo Maduro, Ecuadorian Sumatra, Habano Maduro

Buy 1 for

$5.35

each.

Buy 5 for

$4.80

each.

Steve's Smoking Low Price:
10 for Only

$4.75

each.




An excellent cigar from the moment you light it all the way to the nub. Incredible flavor from start to finish, with hints of hickory, chocolate, pepper and cloves. This is a cigar that no humidor should be without.

Click HERE to Learn More about... Quesada - QUESADA TRIBUTO JULIO cigars.

Buy a Full Box Packaged In: Box of 24

Everyday Low Price:

$113.10

Boxes are Out of Stock



Add to Wishlist Add to Compare eMail a Friend