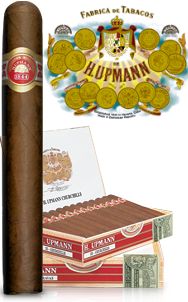 H. UPMANN CIGARS - quality and craftsmanship
As one of the oldest cigar brands around today, H. Upmann has come readily to the lips of cigar connoisseurs for well over a century and a half. The name traces its roots back to 1844 when two brothers, August and Hermann Upmann, who are also attributed with the invention of the cedar box as a means to store cigars, started the brand in Havana. These days, the legend of H. Upmann lives on under the watchful eye of cigar master José Seijas.
H. Upmann the Cigar
From its intricate and complex flavor sensation to the even burn and classic ash that been the hallmark of H. Upmann's incredibly fine cigar making, every cigar captures everything aficionados have loved about H. Upmann cigars and then some.
We have these H. UPMANN CIGARS
Cameroon 3 Pack, Vintage Cameroon Robusto, Vintage Cameroon Toro, Churchill, Reserve Maduro Robusto, Reserve Maduro Titan, Reserve Maduro Toro, Mini, Robusto, Tin, Sungrown 5 pack with Logo Ashtray, Banker Arbitrage, Banker Currency, Banker Annuity,

Click the Cigar Babes Butt to See a BIG ASS LIST of ALL the Cigars we Carry
at OldHavanaCigar.com
H. Upmann Banker Annuity

Availability: 23 Sticks IN Stock

Packaged In: Single Stick, 5 and 10 Packs
Also Packaged In: Box of 15

Size:
6 x 52

Shape:

Toro
Country:
Nicaragua
Flavor:
Mild Bodied
Binder:
Nicaraguan
Filler:
Dominican, Nicaraguan
Wrapper:
Ecuadorian, Habano
NEW Item:
May 31st 2014

Buy 1 for

$6.40

each.

Buy 5 for

$5.75

each.

Steve's Smoking Low Price:
10 for Only

$5.65

each.



The Banker Annunity by H. Upmann enjoys a rich and robust nutty taste profile that is complemented with well-balanced notes of spice, coffee and leather.
Click HERE to Learn More about... H. Upmann - Banker Annuity cigars.

Availability: 14 Boxes IN Stock

Buy a Full Box Packaged In: Box of 15

Everyday Low Price:

$84.30



Add to Wishlist Add to Compare eMail a Friend
H. Upmann Banker Currency

Availability: 22 Sticks IN Stock

Packaged In: Single Stick, 5 and 10 Packs
Also Packaged In: Box of 15

Size:
5 1/2 x 48

Shape:

Robusto
Country:
Nicaragua
Flavor:
Medium Bodied
Binder:
Nicaraguan
Filler:
Dominican, Nicaraguan
Wrapper:
Ecuadorian, Habano
NEW Item:
May 24th 2014

Buy 1 for

$5.80

each.

Buy 5 for

$5.20

each.

Steve's Smoking Low Price:
10 for Only

$5.15

each.



The Banker Currency by H. Upmann enjoys a rich and robust nutty taste profile that is complemented with well-balanced notes of spice, coffee and leather.
Click HERE to Learn More about... H. Upmann - Banker Currency cigars.

Buy a Full Box Packaged In: Box of 15

Everyday Low Price:

$76.10

Boxes are Out of Stock



Add to Wishlist Add to Compare eMail a Friend
H. Upmann Reserve Maduro Titan

Availability: 32 Sticks IN Stock

Packaged In: Single Stick, 5 and 10 Packs
Also Packaged In: Box of 27

Size:
6 x 60

Shape:

Robusto Extra
Country:
Honduras
Flavor:
Medium to Full Bodied
Binder:
Honduran
Filler:
Honduran, Nicaraguan
Wrapper:
Mexican Maduro, San Andres Morron

Buy 1 for

$5.45

each.

Buy 5 for

$4.90

each.

Steve's Smoking Low Price:
10 for Only

$4.80

each.



H. Upmann Reserve Maduro Titan is a dark, luxurious San Andres Morrón wrapper, which imparts smooth, creamy flavors and sweet hints of cocoa and coffee.
Click HERE to Learn More about... H. Upmann - Reserve Maduro Titan cigars.

Availability: 1 Box IN Stock

Buy a Full Box Packaged In: Box of 27

Everyday Low Price:

$128.70



Add to Wishlist Add to Compare eMail a Friend
H. Upmann Reserve Maduro Toro

Availability: 18 Sticks IN Stock

Packaged In: Single Stick, 5 and 10 Packs
Also Packaged In: Box of 27

Size:
6 x 50

Shape:

Toro
Country:
Dominican Republic
Flavor:
Medium to Full Bodied
Binder:
Honduran
Filler:
Honduran, Nicaraguan
Wrapper:
Mexican Maduro, San Andres Morron

Buy 1 for

$5.25

each.

Buy 5 for

$4.70

each.

Steve's Smoking Low Price:
10 for Only

$4.65

each.



Reserve Maduro Toro has dark, luxurious San Andres Morrón wrapper, which imparts smooth, creamy flavors and sweet hints of cocoa and coffee
Click HERE to Learn More about... H. Upmann - Reserve Maduro Toro cigars.

Buy a Full Box Packaged In: Box of 27

Everyday Low Price:

$124.15

Boxes are Out of Stock



Add to Wishlist Add to Compare eMail a Friend