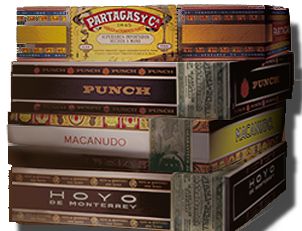 MACANUDO by GENERAL CIGAR
General Cigar Company, the maker of Macanudo cigars is the largest manufacturer and marketer of premium, imported, hand-made or hand-rolled cigars in the United States. Whether you are looking for light, medium or full body cigars, General Cigars diverse portfolio of products is sure to please every taste, and you can find the perfect cigar for any occasion right here at OldHavanaCigar.com.
General Cigar History
This year, General Cigar Company celebrates its fifty-second anniversary. This remarkable milestone comes fast on the heels of the forty-fourth birthday of its most iconic brand, Macanudo. It's an exciting time for everyone involved in building this legendary organization — from the artisans who craft the portfolio of cigars to the agronomists who care for the fields and plants, and an opportunity to reflect on General Cigar's remarkable history.
We have these MACANUDO CIGARS
Gift Pack, Gift Pack, Hyde Park, Petit Corona, Portofino, 1968 Gigante, 4 Pack, Ascot Tin, Millionaire 4 pack, Wood Ashtray Gift Set, General Cigar Premium Sampler,

Click the Cigar Babes Butt to See a BIG ASS LIST of ALL the Cigars we Carry
at OldHavanaCigar.com
Macanudo 1968 Gigante

Availability: SOLD IN STORE ONLY where we have 36 Sticks IN Stock

Packaged In: Single Stick, 5 and 10 Packs
Also Packaged In: Box of 0

Size:
6 x 60

Shape:

Gigante
Country:
Nicaragua
Flavor:
Medium to Full Bodied
Binder:
Nicaraguan
Filler:
Dominican, Nicaraguan
Wrapper:
Colorado Claro



We carry the Macanudo 1968 Gigante in both our Rome and Cartersville GA Stores; however the manufacturer restricts us from selling them directly from our web store or even telling you the price. Please call us (706) 204-9345 for pricing and availability.

Macanudo 1968 has won critical acclaim, scoring a rating of 90 in Cigar Aficionado and Cigar Insider.

Click HERE to Learn More about... Macanudo - 1968 Gigante cigars.


Add to Wishlist Add to Compare eMail a Friend
Macanudo Hyde Park

Availability: 40 Sticks IN Stock

Packaged In: Single Stick, 5 and 10 Packs
Also Packaged In: Box of 25

Size:
5 1/2 x 50

Shape:

Robusto
Country:
Dominican Republic
Flavor:
Mild Bodied
Binder:
Dominican
Filler:
Dominican, Mexican
Wrapper:
Connecticut Shade

Buy 1 for

$6.90

each.

Buy 5 for

$6.20

each.

Steve's Smoking Low Price:
10 for Only

$6.10

each.




Individually handcrafted from an aromatic and flavorful blend, Macanudo cigars are mellow, distinctively smooth and easy to smoke. In addition to being a consumer favorite, Macanudo Cafe has been endorsed by Cigar Insider with a rating of 90.

Click HERE to Learn More about... Macanudo - Hyde Park cigars.

Availability: 4 Boxes IN Stock

Buy a Full Box Packaged In: Box of 25

Everyday Low Price:

$151.50



Add to Wishlist Add to Compare eMail a Friend
Macanudo Petit Corona

Availability: 18 Sticks IN Stock

Packaged In: Single Stick, 5 and 10 Packs
Also Packaged In: Box of 25

Size:
5 x 38

Shape:

Petit Corona
Country:
Dominican Republic
Flavor:
Mild Bodied
Binder:
Dominican
Filler:
Dominican, Mexican
Wrapper:
Connecticut Shade

Buy 1 for

$5.30

each.

Buy 5 for

$4.75

each.

Steve's Smoking Low Price:
10 for Only

$4.70

each.




Individually handcrafted from an aromatic and flavorful blend, Macanudo cigars are mellow, distinctively smooth and easy to smoke. In addition to being a consumer favorite, Macanudo Cafe has been endorsed by Cigar Insider with a rating of 90.

Click HERE to Learn More about... Macanudo - Petit Corona cigars.

Availability: 1 Box IN Stock

Buy a Full Box Packaged In: Box of 25

Everyday Low Price:

$116.00



Add to Wishlist Add to Compare eMail a Friend