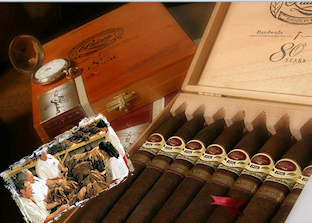 When Padron is on the label, quality is a matter of family honor.
With over forty-six years to create a perfect cigar and more than 100 years to create a perfect legacy, the Padron Family understands the significance of time. We deliver only the finest, handmade, complex cigars with the flavor of the Cuban heritage out of which the Padron recipe was born. Our primary mission is the exceptional quality of our product, not the quantity produced.
As a vertically integrated, family-owned company, we pay personal attention to every detail throughout all steps of our tobacco growing and cigar manufacturing process. Because we strive to give you, the smoker, the confidence that each cigar is the same….. Perfect.
When you remember life's important moments, you'll remember Padron.
Striving to create cigars worthy of special times is the singular motivation hehind Padron Cigars. For years, Padron smokers have shared with us stories of special moments in their lives that have been distinguished by smoking on of our cigars. This too is how we in the Padron Family live our lives. Great cigars have been the centerpiece of many our most memorable moments-those moments shared with family and friends. The Padron Family Thanks you for your continued loyalty and trust in the Padron name.
There are four series that comprise the Padron Cigar offering:
Padron
Padron 1964 Anniversary Series
Padron 1926 Series
and the Padron Family Reserve
On occasion we manufacture a special release commemorating a significant family date or event. Each series embodies its own characteristics and complexity we invite you to experience them all.
We have these PADRON CIGARS
Diplomatico, Exclusivo (1964), Imperial (1964), Anniversary 1964 Monarca, 1926 No. 1, #88 Gift Pack, 1926 Gift Pack, 1926 No. 6, 1964 Gift Pack, 2000 Maduro Robusto, 3000, 4000 Maduro Churchill, Anniversary Principes, Anniversary Torpedo Maduro, Anniversary Torpedo Natural, Corticos, 7000, 2000 Natural Robusto, 4000 Natural Churchill, 3000 Natural,

Click the Cigar Babes Butt to See a BIG ASS LIST of ALL the Cigars we Carry
at OldHavanaCigar.com
Padron 3000 Natural

Availability: 25 Sticks IN Stock

Packaged In: Single Stick, 5 and 10 Packs
Also Packaged In: Box of 26

Size:
5 1/2 x 52

Shape:

Robusto
Country:
Nicaragua
Flavor:
Medium to Full Bodied
Binder:
Nicaraguan
Filler:
Nicaraguan
Wrapper:
Habano Nicaragua, Natural

Buy 1 for

$5.95

each.

Buy 5 for

$5.35

each.

Steve's Smoking Low Price:
10 for Only

$5.25

each.



Notes of earth, cocoa, coffee, pepper, and a bit of sweetness on the finish that nicely rounds out the experience of this Padron 3000 Natural Cigar
Click HERE to Learn More about... Padron - 3000 Natural cigars.

Buy a Full Box Packaged In: Box of 26

Everyday Low Price:

$135.70

Boxes are Out of Stock



Add to Wishlist Add to Compare eMail a Friend
Padron Corticos

Availability: 20 Sticks IN Stock

Packaged In: Single Stick, 5 and 10 Packs
Also Packaged In: Box of 30

Size:
4 1/8 x 35

Shape:

Petit Corona
Country:
Nicaragua
Flavor:
Medium to Full Bodied
Binder:
Nicaraguan
Filler:
Nicaraguan
Wrapper:
Maduro, Nicaraguan Sun Grown

Buy 1 for

$3.00

each.

Buy 5 for

$2.70

each.

Steve's Smoking Low Price:
10 for Only

$2.65

each.



Corticos is sun-grown with essence of coffee and cocoa bean.
Click HERE to Learn More about... Padron - Corticos cigars.

Availability: 1 Box IN Stock

Buy a Full Box Packaged In: Box of 30

Everyday Low Price:

$79.60



Add to Wishlist Add to Compare eMail a Friend