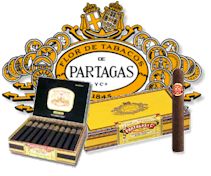 PARTAGAS CIGARS - Try a Partagas cigar today and experience the best!
The Partagas brand name is among the most famous and recognizable cigar names in the world. With a rich history more then 160 years old, the brand first got its start as a Cuban premium cigar.
This famous brand originated in 1845, not long after Jaime Partagas sailed from Spain to Cuba. Yet the greatest chapters of Partagas history were actually written by two other men, Ramón Cifuentes and the son who was named after him. Whether working together or alone, it was those two great cigar masters who made Partagas one of the leading cigars in the world today.
The Legend of Partagas
Like the legendary cigar master Ramón Cifuentes, the Partagas smoker knows what he wants: a cigar that always delivers the richest taste yet never comes on too strong. In keeping with that ideal, every Partagas is an invitation to savor the artistry it takes to bring you this cigar, from the richest of Cuban traditions to the richest of Cameroon wrappers.
We have these PARTAGAS CIGARS
Black Gigante, Black Magnifico, Black Maximo, Serie S Esplendidio, Serie S Primero, Naturales, Cigar and Lighter Gift Set, Holiday Collection, 1845 Corona Extra, 1845 Double Corona, 1845 Gigante, 1845 Robusto, General Cigar 2012 New Release Gift Set, General Cigar Best of Dominican Cigars Sampler, 1845 Toro Grande,

Click the Cigar Babes Butt to See a BIG ASS LIST of ALL the Cigars we Carry
at OldHavanaCigar.com
Partagas 1845 Double Corona

Availability: 20 Sticks IN Stock

Packaged In: Single Stick, 5 and 10 Packs
Also Packaged In: Box of 20

Size:
7 1/4 x 54

Shape:

Double Corona
Country:
Dominican Republic
Flavor:
Full Bodied
Binder:
Habano Connecticut
Filler:
Dominican, Nicaraguan Ligero
Wrapper:
Ecuadorian, Habano

Buy 1 for

$6.45

each.

Buy 5 for

$5.80

each.

Steve's Smoking Low Price:
10 for Only

$5.70

each.



Partagas 1845 Double Corona is full-flavored with a medium-bodied taste profile. Bearing hints of coffee and cocoa, this unique smoking experience sits firmly between the mild and aromatic flavor of classic Partagas and the strong, sweet taste of Partagas Black Label
Click HERE to Learn More about... Partagas - 1845 Double Corona cigars.

Availability: 1 Box IN Stock

Buy a Full Box Packaged In: Box of 20

Everyday Low Price:

$113.40



Add to Wishlist Add to Compare eMail a Friend
Partagas 1845 Gigante

Availability: 16 Sticks IN Stock

Packaged In: Single Stick, 5 and 10 Packs
Also Packaged In: Box of 20

Size:
6 x 60

Shape:

Corona Gorda
Country:
Dominican Republic
Flavor:
Full Bodied
Binder:
Habano Connecticut
Filler:
Dominican, Nicaraguan Ligero
Wrapper:
Ecuadorian, Habano

Buy 1 for

$5.95

each.

Buy 5 for

$5.35

each.

Steve's Smoking Low Price:
10 for Only

$5.25

each.



Partagas 1845 Gigante is full-flavored with a medium-bodied taste profile. Bearing hints of coffee and cocoa, this unique smoking experience sits firmly between the mild and aromatic flavor of classic Partagas and the strong, sweet taste of Partagas Black Label
Click HERE to Learn More about... Partagas - 1845 Gigante cigars.

Availability: 5 Boxes IN Stock

Buy a Full Box Packaged In: Box of 20

Everyday Low Price:

$104.70



Add to Wishlist Add to Compare eMail a Friend
Partagas 1845 Toro Grande

Availability: 20 Sticks IN Stock

Packaged In: Single Stick, 5 and 10 Packs
Also Packaged In: Box of 20

Size:
6 1/4 x 54

Shape:

Toro
Country:
Dominican Republic
Flavor:
Medium to Full Bodied
Binder:
Broadleaf, Connecticut Shade
Filler:
Dominican, Nicaraguan
Wrapper:
Ecuadorian, Habano

Buy 1 for

$5.85

each.

Buy 5 for

$5.25

each.

Steve's Smoking Low Price:
10 for Only

$5.20

each.



Partagas Toro Grande is a boutique-style handmade cigar overflowing with hearty, rich tobacco notes, sweetness, coffee, pepper, and cedar yet keeping the Partagas signature smoothness in every puff.
Click HERE to Learn More about... Partagas - 1845 Toro Grande cigars.

Availability: 1 Box IN Stock

Buy a Full Box Packaged In: Box of 20

Everyday Low Price:

$102.95



Add to Wishlist Add to Compare eMail a Friend
Partagas Black Gigante

Availability: 20 Sticks IN Stock

Packaged In: Single Stick, 5 and 10 Packs
Also Packaged In: Box of 20

Size:
6 x 60

Shape:

Corona Gorda
Country:
Dominican Republic
Flavor:
Full Bodied
Binder:
Nicaraguan
Filler:
Dominican, Nicaraguan
Wrapper:
Maduro, Medio Tiempo

Buy 1 for

$7.70

each.

Buy 5 for

$6.95

each.

Steve's Smoking Low Price:
10 for Only

$6.80

each.




The star of the Partagas Black Label cigars is its wrapper, a will oiled Connecticut Medio Tiempo leaf that is proprietary to General Cigar.

Click HERE to Learn More about... Partagas - Black Gigante cigars.

Buy a Full Box Packaged In: Box of 20

Everyday Low Price:

$119.99

Boxes are Out of Stock



Add to Wishlist Add to Compare eMail a Friend
Partagas Black Magnifico

Availability: 28 Sticks IN Stock

Packaged In: Single Stick, 5 and 10 Packs
Also Packaged In: Box of 20

Size:
6 x 54

Shape:

Toro
Country:
Dominican Republic
Flavor:
Full Bodied
Binder:
Nicaraguan
Filler:
Dominican, Nicaraguan
Wrapper:
Maduro, Medio Tiempo

Buy 1 for

$7.10

each.

Buy 5 for

$6.40

each.

Steve's Smoking Low Price:
10 for Only

$6.30

each.




The star of the Partagas Black Label cigars is its wrapper, a will oiled Connecticut Medio Tiempo leaf that is proprietary to General Cigar.

Click HERE to Learn More about... Partagas - Black Magnifico cigars.

Buy a Full Box Packaged In: Box of 20

Everyday Low Price:

$115.65

Boxes are Out of Stock



Add to Wishlist Add to Compare eMail a Friend
Partagas Serie S Esplendidio

Availability: 23 Sticks IN Stock

Packaged In: Single Stick, 5 and 10 Packs
Also Packaged In: Box of 25

Size:
4 1/2 x 60

Shape:

Perfecto
Country:
Dominican Republic
Flavor:
Medium Bodied
Binder:
Dominican
Filler:
Dominican, Mexican
Wrapper:
Cameroon

Buy 1 for

$5.90

each.

Buy 5 for

$5.30

each.

Steve's Smoking Low Price:
10 for Only

$5.20

each.




Partagas Serie S Esplendido cigars have an unmistakable flavor of their Cameroon wrapper, medium bodied and consistently pepper the palate with a rich flavor.

Click HERE to Learn More about... Partagas - Serie S Esplendidio cigars.

Buy a Full Box Packaged In: Box of 25

Everyday Low Price:

$130.15

Boxes are Out of Stock



Add to Wishlist Add to Compare eMail a Friend