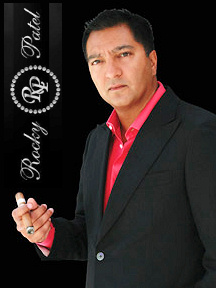 About Rocky Patel Cigars
In an industry built on name recognition and reputation, Rocky Patel's passion has brought his brand to heights unseen by most boutique cigar manufacturers. His hard work and long hours have been paying off in big ways. A survivor of the cigar boom, Patel has outlasted his competition with unrivaled persistence on his quest for perfection. With a grueling travel schedule, office responsibilities and production, Rocky still maintains the enthusiasm that he has had since day one. As he travels the world, putting his cigars in the mouth of his consumers, his passion extends beyond the retailer, allowing his customers the experience of meeting the man behind their favorite smokes. Rocky Patel has created a company that has out shined even those created by multimillion dollar corporations, and he's doing it one customer at a time.
Originally an entertainment lawyer in Las Angeles, Mr. Patel was introduced to cigars on the back lots of Hollywood studios. Fine cigars quickly became a passion for him, and he became one the original founding members of the Grand Havana Club. While searching for the very best cigars, Mr. Patel was approached with the opportunity to manufacture his own brand. While his friends and colleagues warned him against leaving his lucrative practice for the cigar industry, Mr. Patel seized the opportunity to create the kind of product he saw missing in the market. He was convinced that a new company was needed to open the marketplace with fresh ideas, bold packaging, and fuller cigars. After careful development, the Indian Tabac Cigar Company debuted at the 1996 RTDA in Cincinnati. Customers flocked to the Indian Tabac booth, drawn in by the distinct packaging and staying for the high-quality product.
In 2003, he put aside the Indian Tabac brand name to focus on the Rocky Patel Vintage Series. A superior smoke to anything Mr. Patel had created previously, the Vintage Series was made up of premium quality aged tobaccos. While in Honduras, he had discovered unused bales of old Honduran-grown broadleaf and Ecuadorian Sumatra. He used these two different tobaccos to create both lines of the Vintage Series. The older tobacco performed beyond his wildest expectations. To insure that the craftsmanship equalled the quality of the tobacco, Mr. Patel cut production to a mere 250 cigars a day. The result is a line of fine cigars that have consistently cracked the 90-rating barrier in Cigar Aficionado. The legacy of precision continues to this day, with every Rocky Patel Cigar being thoroughly inspected and draw tested
Mr Patel continues his mission to introduce his product to tobacco enthusiast everywhere. Often heralded as the hardest working man in the business, Mr. Patel logs more than 300 days on the road a year; He once visited 600 cities in 750 days. Mr. Patel considers his traveling as time well spent, winning over new costumers in every town. This practice is only an extension of Mr. Patel's enthusiasm for his award-winning cigars and his commitment to his customers. Mr. Patel also hosts trips to his factory in Honduras, giving his customers a chance to discover fine craftsmanship in person. The dedication in the factory is translated into a quality cigar that is enjoyed all over the world.
Apart from maintaining a consistent presence in the public eye and inviting his customers on the trip of a life time, Mr. Patel spends his time focusing on production. He gears his product towards the more complex palate. He believes that blending tobaccos from various regions takes greater skill and knowledge, and that it creates a more satisfying end product. This process is time consuming, and Mr. Patel will often take a year or more to craft a perfect blend. Rocky Patel Premium Cigars continues to set itself ahead of the competition by offering the highest value cigars at reasonable prices. Currently producing 20,000,000 cigars annually Patel elucidates, "cigar manufacturing is an art form that has transcended over generations." Three hundred different hands touch the tobacco from the time a seedling is planted in the ground, to the time a cigar is placed in a box for final shipment. Mr. Patel assures his customers that when they expect the best, they get the best. When they expect the very best, they get Rocky Patel Premium Cigars.
We have these ROCKY PATEL CIGARS
Cameroon Toro, Decade Lonsdale, Decade Robusto, Decade Toro, Decade Torpedo, Edge Toro, Edge Lite, Edge Missile, Edge Battalion Corojo, Olde World Reserve, Renaissance Robusto, Renaissance Toro, Summer Lancero, Summer Robusto, Summer Toro, Summer Toro Grande, Sun Grown Robusto, Sun Grown Sixty, Sun Grown Toro, Sun Grown Torpedo, Toro Sampler, 1990 Vintage Robusto, Vintage Sixty, 1990 Vintage Toro, Rocky Branded Ashray, 10 Year Robusto, 10 Year Toro, 5 Pack Tin, Winter Robusto, Winter Toro, Corojo Especial Toro, Patel Brother Robusto, 1961 Robusto, 1961 Toro, Patel Brother Corona, Patel Brother Super Toro, Olde World Reserve Toro Sampler, Decade Gift Pack, 15th Anniversary Corona Gorda, 15th Anniversary Robusto, 15th Anniversary Toro, 15th Anniversary Torpedo, Its a Boy, Edge Sampler, Thunder Robusto, Thunder Toro, Its a Girl, Fifty Toro, Thunder Gordo, XEN by Nish Patel Robusto, XEN by Nish Patel Toro, Best of the Best Sampler, Edge Habano Toro, Edge Maduro Toro, Edge Battalion Maduro, Edge Sumatra Toro, Vintage 1992 Ecuadorian Sumatra Robusto, Vintage 1992 Ecuadorian Sumatra Six by Sixty, Vintage 1992 Ecuadorian Sumatra Toro, Vintage 1999 Connecticut Robusto, Vintage 1999 Connecticut Toro, Vintage 2003 Cameroon Robusto, Java Latte, Java Maduro, Java Mint, Habano Especial Toro,

Click the Cigar Babes Butt to See a BIG ASS LIST of ALL the Cigars we Carry
at OldHavanaCigar.com
Items 1 to 10 of 25 total
Page:

1

Show per page
Rocky Patel 1990 Vintage Robusto

Availability: 25 Sticks IN Stock

Packaged In: Single Stick, 5 and 10 Packs
Also Packaged In: Box of 20

Size:
5 1/2 x 50

Shape:

Robusto
Country:
Honduras
Flavor:
Varies on Wrapper Choice
Binder:
Honduran
Filler:
Dominican, Nicaraguan
Wrapper:
Honduran
Wrapper Color:
1990 - Medium Bodied and 1992 - Medium to Full Bodied

Buy 1 for

$7.55

each.

Buy 5 for

$7.55

each.

Steve's Smoking Low Price:
10 for Only

$7.55

each.

Option Selection Required...



Rocky Patel Vintage 1990 Don't let the dark wrapper fool you, the Vintage 1990 is a mild- to medium-body cigar with a nutty, caramel essence
Videos
Click HERE to Learn More about... Rocky Patel - 1990 Vintage Robusto cigars.

Availability: 6 Boxes IN Stock

Buy a Full Box Packaged In: Box of 20

Everyday Low Price:

$135.90

Option Selection Required...



Add to Wishlist Add to Compare eMail a Friend
Rocky Patel 1990 Vintage Toro

Availability: 32 Sticks IN Stock

Packaged In: Single Stick, 5 and 10 Packs
Also Packaged In: Box of 20

Size:
6 1/2 x 52

Shape:

Toro
Country:
Honduras
Flavor:
Varies on Wrapper Choice
Binder:
Honduran
Filler:
Dominican, Nicaraguan
Wrapper:
Ecuadorian Sumatra, Honduran
Wrapper Color:
1990 - Medium Bodied and 1992 - Medium to Full Bodied

Buy 1 for

$8.55

each.

Buy 5 for

$8.55

each.

Steve's Smoking Low Price:
10 for Only

$8.55

each.

Option Selection Required...



ROCKY PATEL VINTAGE 1990 Don't let the dark wrapper fool you, the Vintage 1990 is a mild- to medium-body cigar with a nutty, caramel essence.
Videos
Click HERE to Learn More about... Rocky Patel - 1990 Vintage Toro cigars.

Availability: 2 Boxes IN Stock

Buy a Full Box Packaged In: Box of 20

Everyday Low Price:

$153.90

Option Selection Required...



Add to Wishlist Add to Compare eMail a Friend
Rocky Patel Cameroon Toro

Availability: 20 Sticks IN Stock

Packaged In: Single Stick, 5 and 10 Packs
Also Packaged In: Box of 20

Size:
6 x 52

Shape:

Toro
Country:
Honduras
Flavor:
Medium Bodied
Binder:
Honduran
Filler:
Dominican, Honduran, Nicaraguan
Wrapper:
Cameroon

Buy 1 for

$3.60

each.

Buy 5 for

$3.60

each.

Steve's Smoking Low Price:
10 for Only

$3.60

each.



Rocky Patel Patel Corojo Especial Bundles are a great inexpensive premium cigar. The Corojo wrapper give this cigar a earthy flavor, and Quality of Rocky Patel.
Click HERE to Learn More about... Rocky Patel - Cameroon Toro cigars.

Availability: 2 Boxes IN Stock

Buy a Full Box Packaged In: Box of 20

Everyday Low Price:

$64.80



Add to Wishlist Add to Compare eMail a Friend
Rocky Patel Corojo Especial Toro

Availability: 12 Sticks IN Stock

Packaged In: Single Stick, 5 and 10 Packs
Also Packaged In: Box of 20

Size:
6 x 50

Shape:

Toro
Country:
Nicaragua
Flavor:
Medium to Full Bodied
Binder:
Honduran
Filler:
Dominican, Honduran, Nicaraguan
Wrapper:
Corojo

Buy 1 for

$3.60

each.

Buy 5 for

$3.60

each.

Steve's Smoking Low Price:
10 for Only

$3.60

each.



Rocky Patel Patel Corojo Especial Bundles are a great inexpensive premium cigar. The Corojo wrapper give this cigar a earthy flavor, and Quality of Rocky Patel.
Click HERE to Learn More about... Rocky Patel - Corojo Especial Toro cigars.

Availability: 6 Boxes IN Stock

Buy a Full Box Packaged In: Box of 20

Everyday Low Price:

$64.80



Add to Wishlist Add to Compare eMail a Friend
Rocky Patel Edge Lite

Availability: 48 Sticks IN Stock

Packaged In: Single Stick, 5 and 10 Packs
Also Packaged In: Box of 50

Size:
6 x 52

Shape:

Toro
Country:
Honduras
Flavor:
Medium to Full Bodied
Binder:
Honduran
Filler:
Nicaraguan, Panamanian
Wrapper:
Ecuadorian

Buy 1 for

$6.30

each.

Buy 5 for

$6.30

each.

Steve's Smoking Low Price:
10 for Only

$6.30

each.



The Edge Lite is a mild, creamy cigar that delivers rich flavor not immediately expected from a Connecticut-wrappered cigar.
Videos
Click HERE to Learn More about... Rocky Patel - Edge Lite cigars.

Buy a Full Box Packaged In: Box of 50

Everyday Low Price:

$283.50

Boxes are Out of Stock



Add to Wishlist Add to Compare eMail a Friend
Items 1 to 10 of 25 total
Page:

1

Show per page