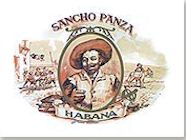 SANCHO PANZA CIGARS
a Cuban Classic Re-Born
Like other great Habano brands such as Montecristo and Romeo y Julieta, Sancho Panza takes it name from a masterpiece of world literature.
In Don Quixote, the famous 17th Century Spanish novel by Miguel de Cervantes, it was Sancho Panza who served the errant knight as his faithful squire.
His name was first used for a Habano in 1848 and since then it has enjoyed a reputation for quality amongst discerning smokers.
Extraordinary Flavor
The Sancho Panza cigar was crafted by the legendary cigar master Estelo Padron. Using a medium-bodied blend of Connecticut Shade and maduro wrappers, a rich Connecticut Broadleaf binder and Cuban-seed filler tobaccos. - totally hand made, long filler at a affordable price.

Click the Cigar Babes Butt to See a BIG ASS LIST of ALL the Cigars we Carry
at OldHavanaCigar.com
Sancho Panza Escuerdo

Availability: 27 Sticks IN Stock

Packaged In: Single Stick, 5 and 10 Packs
Also Packaged In: Box of 20

Size:
7 1/4 x 54

Shape:

Double Corona
Country:
Honduras
Flavor:
Medium Bodied
Binder:
Honduran
Filler:
Honduran, Nicaraguan
Wrapper:
Connecticut Broadleaf

Buy 1 for

$4.95

each.

Buy 5 for

$4.45

each.

Steve's Smoking Low Price:
10 for Only

$4.40

each.



The Experience:

Because Sancho Panza Double Maduro offers you a great value as well as a great cigar, you can enjoy it every day.

Click HERE to Learn More about... Sancho Panza - Escuerdo cigars.

Availability: 4 Boxes IN Stock

Buy a Full Box Packaged In: Box of 20

Everyday Low Price:

$86.70



Add to Wishlist Add to Compare eMail a Friend