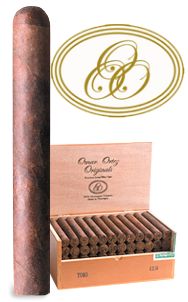 OMAR ORTEZ CIGARS
The line bears the name of the talented cigar maker Omar Ortez who has become well-known for his highly-rated, fuller-bodied cigars. Ortez established the Agroindustrial Nicaraguense de Tabaco in 1995 in Codega, Nicaragua, which is located just north of the famed cigar-producing city of Esteli.
About Omar Ortez Cigars
Omar Ortez Cigars are one of the quickest and most affordable ways to stock up your humidor with exceptional cigars. But don't let the lack of fancy adornments fool you. The ultra-rich, powerhouse full-bodied cigars will delight your palate, wake up the senses and offer plenty of bang for the buck.
About Altadis
If you have ever enjoyed a premium cigar, there's a good chance you've enjoyed a cigar crafted by Altadis U.S.A. Responsible for many of the world's most renowned brands including Montecristo, Romeo y Julieta, H. Upmann, and Trinidad, Altadis U.S.A. has been crafting great cigars since 1918.

Click the Cigar Babes Butt to See a BIG ASS LIST of ALL the Cigars we Carry
at OldHavanaCigar.com