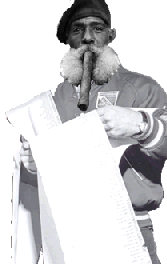 Selecting a Brand from the following Alphabetical listing will dynamically create a Product List for the brand.

This is the entire List of ALL Cigar Brands sold by Old Havana Cigar Company without the pictures and detail information. No Fuss, No Muss, just Down and Dirty. From here you can EASILY Narrow your search by using the 'Layered Navigation' found on the left of each product page.

Looking to see if we carry your Favorite Brand of Cigar?
Do you want to look at ONLY the Cigar Brand you are interested in?
Once you select a Brand from the list on the following page, you can quickly narrow your search even more with ONE Simple Click and even Change your search preferences all while NEVER leaving the product list.
Change your search preferences with ONE Simple Click all while NEVER leaving the product list.
Now there truly is an EASIER way to shop. The possibilities are endless, give it a try and see why the competitors are attempting to copy us.

Click the Cigar Babes Butt to See a BIG ASS LIST of ALL the Cigars we Carry
at OldHavanaCigar.com
Items 1 to 5 of 311 total
Page:

1

Show per page
Items 1 to 5 of 311 total
Page:

1

Show per page