Standard Reference Method (SRM)

The Standard Reference Method or SRM is one of several systems modern brewers use to specify beer color.
Determination of the SRM value involves measuring the attenuation of light of a particular wavelength (430 nm) in passing through 1 cm of the beer, expressing the attenuation as an absorption and scaling the absorption by a constant (12.7 for SRM; 25 for EBC).
The SRM (or EBC) number represents a single point in the absorption spectrum of beer. As such it cannot convey full color information which would require 81 points. But it does remarkably well in this regard (it conveys 92% of spectral information) even when fruit beers are considered.
Auxiliary deviation coefficients can pick up the remainder and are necessary for fruit beers and when subtle color differences in malt beers are to be characterized.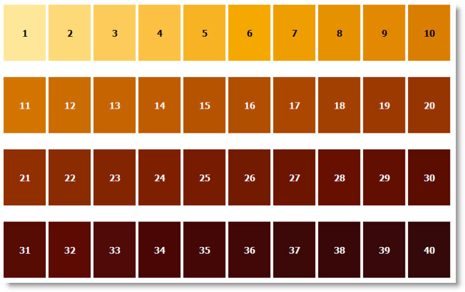 | Style | SRM Range |
| --- | --- |
| Pilsner | 2 - 7 |
| Witbier, Berliner Weisse | 2 - 4 |
| Belgian Strong Ale | 4 - 7 |
| Maibock | 4 - 10 |
| Vienna Lager | 7 - 14 |
| Oktoberfest | 4 - 12 |
| American Pale Ale | 6 - 14 |
| Pale Ale | 5 - 14 |
| English Golden Ale | 4 - 8 |
| Bavarian Weizen | 4 - 10 |
| Bitter, ESB | 8 - 14 |
| Märzen | 7 - 15 |

| Style | SRM Range |
| --- | --- |
| Imperial Pale Ale | 5 - 11 |
| Bière de Garde | 6 - 13 |
| Dunkel Weizen | 9 - 13 |
| Pilsner | 2 - 7 |
| Amber Ale | 11 - 18 |
| English Brown Ale | 12 - 22 |
| Bock | 15 - 30 |
| Porter | 20 - 40 |
| Oatmeal Stout | 25 - 40 |
| Baltic Porter | 17 - 40 |
| Foreign Stout | 30 - 65 |
| Imperial Stout | 50 - 80 |

Source: Tasting Beer by Randy Mosher