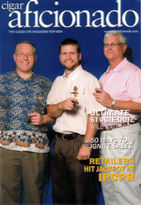 How to Arrive at a Number
Cigar rating system developed by CIGAR AFICIONADO™
(This text is from The Cigar Lover's Diary)

There are four components used in the system developed by CIGAR AFICIONADO™ for assigning a rating number to a cigar:
APPEARANCE AND CONSTRUCTION

(15 of the possible 100 points)
Visually, a premium cigar should have a smooth, flawless wrapper and be consistent in color and shape. When held, it should feel firm and give off a slightly oily moistness. Points are deducted if the wrapper has areas of large veins or if the cigar feels dry or firmer in some parts than others.

FLAVOR

(25 of the possible 100 points)
Although each premium cigar has a distinctive taste, all premium cigars should taste smooth and rich. If a cigar leaves a bitter or harsh taste on your lips, tongue or mouth, points are deducted.

SMOKING CHARACTERISTICS

(25 of the possible 100 points)
A perfectly made and stored premium cigar should light and burn easily and evenly. The draw should be comfortable and the same throughout the cigar. The smoke should be cool in your mouth. Points are deducted if the cigar burns too quickly, if it burns faster on one side, and if you have to pull hard to get a mouthful of smoke or if that smoke is unpleasantly hot.

OVERALL IMPRESSION

(35 of the possible 100 points)
This is the most heavily weighted category because it is the most important.