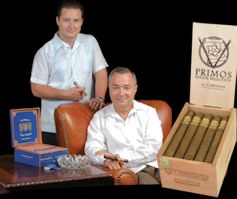 PRIMOS CIGARS by the Los Blancos Cigar Company
The Los Blancos Cigar Company was founded in the USA in 1998, however, the family's history and roots in the tobacco industry can be trace back to Cuba's western-most province of Pinar del Rio and their cousins of 80 years, the Plasencia family. The Plasencias, whose roots are also found in Pinar del Rio, are today one of the preeminent tobacco families in the industry. The Plasencias run all farming and manufacturing operations in Danli Honduras and Esteli Nicaragua.
The Los Blancos Cigar Company corporate offices and North America Disruption center are located in the City of Chicago. The Blanco family believes in a strong family oriented business and as a result much of the family is involved in one aspect of the business or another.

Click the Cigar Babes Butt to See a BIG ASS LIST of ALL the Cigars we Carry
at OldHavanaCigar.com