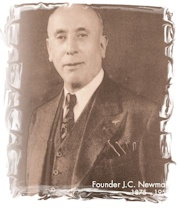 ALCAZAR CIGARS by J.C. Newman - America's Oldest Family Owned Premium Cigar Maker
Originally released in 1898, Alcazar is made with tobacco from the best growing regions in Nicaragua – Esteli, Pueblo Nuevo, and Jalapa. These wonderful tobaccos are specially blended to make the distinctive filler of the Alcazar Maduro cigar.
This prized filler is wrapped around the widely-acclaimed Connecticut maduro leaf to create an exceptional everyday smoke with a sweet, earthy flavor. A handmade Nicaraguan cigar packaged in an affordable bundle, Alcazar is available in 5 popular sizes, all with a ring gauge of 50 or higher. It's no wonder they continue to please the palate of cigar-lovers across the country and across generations.
About J.C. Newman Cigar Co.
Tampa, Florida's celebrated heritage as the Fine Cigar Capital of the World lives on at J.C. Newman Cigar Company. J.C. Newman Cigar is America's oldest family-owned premium cigar makers, and also the last operating cigar factory in Cigar City. With a portfolio of famous brands beloved by cigar lovers the world over, we offer cigars for every taste profile and every budget. From the ultra-premium Diamond Crown and Diamond Crown MAXIMUS to Cuesta-Rey, La Unica, Brick House, El Baton, to our value-priced Quorum and Factory 59's, these brands are instantly recognizable to cigar aficionados everywhere.

Click the Cigar Babes Butt to See a BIG ASS LIST of ALL the Cigars we Carry
at OldHavanaCigar.com
Alcazar Maduro #1

Availability: 10 Sticks IN Stock

Packaged In: Single Stick, 5 and 10 Packs
Also Packaged In: Box of 20

Size:
8 x 52

Shape:

Gigante
Country:
Nicaragua
Flavor:
Medium to Full Bodied
Binder:
Nicaraguan
Filler:
Nicaraguan
Wrapper:
Connecticut Broadleaf, Maduro

Buy 1 for

$3.50

each.

Buy 5 for

$3.15

each.

Steve's Smoking Low Price:
10 for Only

$3.10

each.



Alcazar Maduro - Introduced in 1998 the Alcazar Features long fillers with a Medium Body with a Connecticut Broadleaf Maduro Wrapper and named after the Famous race horse Alcazar.
Click HERE to Learn More about... Alcazar - Maduro #1 cigars.

Availability: 1 Box IN Stock

Buy a Full Box Packaged In: Box of 20

Everyday Low Price:

$61.25



Add to Wishlist Add to Compare eMail a Friend
Alcazar Maduro #4

Availability: 11 Sticks IN Stock

Packaged In: Single Stick, 5 and 10 Packs
Also Packaged In: Box of 20

Size:
5 x 52

Shape:

Robusto
Country:
Nicaragua
Flavor:
Medium to Full Bodied
Binder:
Nicaraguan
Filler:
Nicaraguan
Wrapper:
Connecticut Broadleaf, Maduro

Buy 1 for

$2.90

each.

Buy 5 for

$2.60

each.

Steve's Smoking Low Price:
10 for Only

$2.55

each.



Alcazar Maduro - Introduced in 1998 the Alcazar Features long fillers with a Medium Body with a Connecticut Broadleaf Maduro Wrapper and named after the Famous race horse Alcazar.
Click HERE to Learn More about... Alcazar - Maduro #4 cigars.

Buy a Full Box Packaged In: Box of 20

Everyday Low Price:

$50.75

Boxes are Out of Stock



Add to Wishlist Add to Compare eMail a Friend