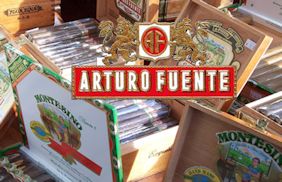 MONTESINO CIGARS by Arturo Fuente Cigars
The Fuente family's tobacco roots go back to the old world of nineteenth century Cuba. Born in 1887, Arturo Fuente learned the art of cultivating top quality tobacco and manufacturing handmade cigars from his father in Cuba. After immigrating to the United States and finally settling in Tampa, Florida's famous Ybor City, Arturo rolled his first cigar bearing the Fuente family name.
Arturo Fuente is still a family company after all these years, representing four generations of family tradition, and is internationally recognized as the world's finest cigar maker.
Other Cigars by Arturo Fuente Cigars
The Arturo Fuente line of cigars ranges from the inexpensive to the premium.
The full-bodied Fuente Fuente Opus X, introduced to the market in November 1995, is regarded the brand's flagship product.[11] The cigar is a Dominican puro making use of Rosado wrapper grown by Fuente's own farm. The cigar is made in 13 vitolas ranging in size from the 4-5/8 inch by 49 ring gauge "Belicoso XXX" to the massive 9-1/4 inch by 47 "Perfecxion A." The cigar achieved great critical success, with the corona size named as Cigar Aficionado magazine's 2005 Cigar of the Year and the Belicoso XXX rated by that publication as the world's number 3 release in 2010.
Arturo Fuente is the manufacturer of the Ashton brand and also makes some of the cigars sold by the J.C. Newman Cigar Company. Some of the products in there list are Arturo Fuente, Arturo Fuente 8-5-8, Arturo Fuente Añejo, Arturo Fuente Don Carlos, Arturo Fuente Rosado Sungrown Magnum R, Brevas Royale, Chateau Fuente, Curly Head, Fuente Fuente Opus X, Hemingway series, Opus X Lost City Edition, Montesino cigars by Arturo Fuente.

Click the Cigar Babes Butt to See a BIG ASS LIST of ALL the Cigars we Carry
at OldHavanaCigar.com