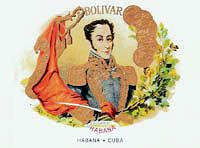 Bolivar Cigars -
The brand was founded (possibly in Great Britain) by José F. Rocha around 1901 or 1902, though the brand was not registered in Havana (Cuba) until 1921, under the ownership of Rocha's firm, J.F. Rocha y Cia.
During this time, the Bolívar brand produced the world's smallest cigar, the Delgado, measuring a mere 1⅞ inches with a 20 ring gauge, and even had the honor of having a miniature box of its cigars featured in the royal nursery's dollhouse at Windsor Castle.
The brand was bought in 1954 by Cifuentes y Cia after Rocha's death and production was moved to the famous Partágas Factory in Havana (today known as the Francisco Pérez Germán factory), where many of its sizes are still produced today. During this time, under Cifuente's direction, Bolívar gained popularity in the world market and became a major export brand.
The Cuban Bolívar has a reputation among cigar aficionados of being one of the strongest and most full-bodied cigars, with its Coronas Junior, Petit Coronas, and Belicosos Finos being famous examples of the marque. In 2002, when Altadis bought a controlling share in the Cuban government-owned cigar distributor, Habanos SA, a number of changes in cigar production were instituted. One of these changes was the decision to gradually turn the various brands of Cuban cigars to either all-handmade or all-machine-made lines. Bolívar, which has historically produced a variety of handmade and machine-made or machine-finished cigars, had several of its vitolas cut from production, with only one remaining, the cigarillo-sized Chicos. It remains to be seen if this size will eventually cease to be produced as well.
In 2005, Wolters in Cologne, Germany, had a few thousand boxes of Bolívar Gold Medals produced by Habanos SA exclusively for their shop. The cigars are an older, discontinued Bolívar size in the Cervantes (lonsdale) format, wrapped in gold foil on one half with a special Bolívar band in the middle and come packaged in boxes of ten. The Gold Medal has since become a regular production cigar again.
After tobacco was nationalized following the Cuban Revolution, the Cifuentes family fled Cuba. In 1978, following a 17 year hiatus, Ramón Cifuentes licensed the Partágas and Bolívar brand names to General Cigar Company, best known as the maker of White Owl, which relaunched the brand for the lucrative American market.
Recently, the Dominican Bolívar brand was reblended to better match the strength of the Cuban-made brand.

Click the Cigar Babes Butt to See a BIG ASS LIST of ALL the Cigars we Carry
at OldHavanaCigar.com
Bolivar Gigante

Availability: 34 Sticks IN Stock

Packaged In: Single Stick, 5 and 10 Packs
Also Packaged In: Box of 25

Size:
6 x 60

Shape:

Corona Gorda
Country:
Dominican Republic
Flavor:
Medium Bodied
Binder:
Havana Medio Tiempo
Filler:
Dominican, Nicaraguan
Wrapper:
San Augustin Ligero

Buy 1 for

$6.60

each.

Buy 5 for

$5.95

each.

Steve's Smoking Low Price:
10 for Only

$5.85

each.



In a heroic tradition all its own, Bolivar is the bold cigar that pays tribute to Simon Bolivar, the great liberator who led the wars of independence in the nations we know today as Venezuela, Colombia, Panama, Ecuador, Peru and Bolivia.
Click HERE to Learn More about... Bolivar - Gigante cigars.

Availability: 1 Box IN Stock

Buy a Full Box Packaged In: Box of 25

Everyday Low Price:

$144.65



Add to Wishlist Add to Compare eMail a Friend