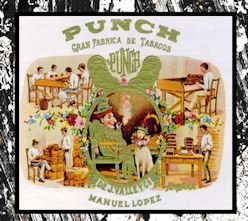 PUNCH CIGARS by General Cigar - Smoke a Part of History
When you light up a Punch cigar, you're not only smoking a bold expression of the cigar maker's art, you're smoking history, for Punch is a legendary cigar with a rich history in Cuba as well as in England. Above all, this is the cigar with the taste that's true to its name.
Produced in Honduras for Villazon Company under the direction of a great Cuban cigar master, Frank Llaneza, Punch has been a leading premium brand ever since it was first imported from Honduras in 1969.
About Punch Cigars
Punch lives up to its name with a bold, full-bodied taste that appeals to men who follow their own instincts as opposed to following the crowd. The wrapper is a full-flavored leaf grown in Ecuador and the filler is a rich blend of Honduran, Nicaraguan and Dominican tobaccos.
We have these PUNCH CIGARS
Champion, Gran Puro Rancho, Gran Puro Sesenta, Gran Cru Britania, Magnum Double Maduro, Pitas, Rare Corojo, Rothschild, Rothschild Gift Pack, Rothschild Gift Pack, 3 Pack Special, Rare Corojo El Doble, Rare Corojo Magnum, Rare Corojo Rothschild, 7 Cigar Mug Gift Set, UpperCut Robusto, UpperCut Toro, Elite Collection, Grandote, General Cigar Best of Honduran Cigars Sampler, Rare Corojo Perfecto,

Click the Cigar Babes Butt to See a BIG ASS LIST of ALL the Cigars we Carry
at OldHavanaCigar.com
Punch Champion

Availability: 25 Sticks IN Stock

Packaged In: Single Stick, 5 and 10 Packs
Also Packaged In: Box of 25

Size:
4 1/2 x 60

Shape:

Figurado
Country:
Honduras
Flavor:
Medium Bodied
Binder:
Honduran
Filler:
Dominican, Honduran, Nicaraguan
Wrapper:
Ecuadorian Sumatra, Natural

Buy 1 for

$5.15

each.

Buy 5 for

$4.65

each.

Steve's Smoking Low Price:
10 for Only

$4.55

each.



The Experience:

Not a conventional cigar, and probably not the first cigar for a new smoker to try, Punch is the straightforward, no-nonsense cigar it would have taken to bring a smile to the otherwise curmudgeonly face of Mr. Punch himself. p>

Click HERE to Learn More about... Punch - Champion cigars.

Availability: 1 Box IN Stock

Buy a Full Box Packaged In: Box of 25

Everyday Low Price:

$113.10



Add to Wishlist Add to Compare eMail a Friend
Punch Gran Puro Rancho

Availability: 35 Sticks IN Stock

Packaged In: Single Stick, 5 and 10 Packs
Also Packaged In: Box of 25

Size:
5 1/2 x 54

Shape:

Robusto Extra
Country:
Honduras
Flavor:
Medium to Full Bodied
Binder:
Honduran
Filler:
Honduran
Wrapper:
Natural

Buy 1 for

$6.05

each.

Buy 5 for

$5.45

each.

Steve's Smoking Low Price:
10 for Only

$5.35

each.



The Experience:

A new experience in smoking, Punch Gran Puro is pure Honduran, a medium-full bodied, no-nonsense cigar that would have brought a smile to the otherwise curmudgeonly face of Mr. Punch himself.

Click HERE to Learn More about... Punch - Gran Puro Rancho cigars.

Availability: 2 Boxes IN Stock

Buy a Full Box Packaged In: Box of 25

Everyday Low Price:

$133.25



Add to Wishlist Add to Compare eMail a Friend
Punch Grandote

Availability: 26 Sticks IN Stock

Packaged In: Single Stick, 5 and 10 Packs
Also Packaged In: Box of 20

Size:
6 1/4 x 60

Shape:

Corona Grande
Country:
Honduras
Flavor:
Full Bodied
Binder:
Dominican, Honduran, Nicaraguan
Filler:
Dominican, Honduran, Nicaraguan
Wrapper:
Ecuadorian Connecticut Shade, Sumatra

Buy 1 for

$6.35

each.

Buy 5 for

$5.70

each.

Steve's Smoking Low Price:
10 for Only

$5.60

each.



Punch Grandote cigars are always rich in flavor, that continues the bold, full-bodied tradition of Punch cigars
Click HERE to Learn More about... Punch - Grandote cigars.

Availability: 1 Box IN Stock

Buy a Full Box Packaged In: Box of 20

Everyday Low Price:

$111.65



Add to Wishlist Add to Compare eMail a Friend
Punch Magnum Double Maduro

Availability: 25 Sticks IN Stock

Packaged In: Single Stick, 5 and 10 Packs
Also Packaged In: Box of 25

Size:
5 1/4 x 54

Shape:

Robusto Extra
Country:
Honduras
Flavor:
Medium to Full Bodied
Binder:
Honduran
Filler:
Dominican, Honduran, Nicaraguan
Wrapper:
Ecuadorian Sumatra, Maduro

Buy 1 for

$5.60

each.

Buy 5 for

$5.05

each.

Steve's Smoking Low Price:
10 for Only

$4.95

each.



The Experience:

Not a conventional cigar, and probably not the first cigar for a new smoker to try, Punch is the straightforward, no-nonsense cigar it would have taken to bring a smile to the otherwise curmudgeonly face of Mr. Punch himself. p>

Click HERE to Learn More about... Punch - Magnum Double Maduro cigars.

Availability: 2 Boxes IN Stock

Buy a Full Box Packaged In: Box of 25

Everyday Low Price:

$123.40



Add to Wishlist Add to Compare eMail a Friend
Punch Rare Corojo Magnum

Availability: 19 Sticks IN Stock

Packaged In: Single Stick, 5 and 10 Packs
Also Packaged In: Box of 25

Size:
5 1/4 x 54

Shape:

Churchill
Country:
Honduras
Flavor:
Medium Bodied
Binder:
Honduran
Filler:
Dominican, Honduran, Nicaraguan
Wrapper:
Ecuadorian Sumatra

Buy 1 for

$5.80

each.

Buy 5 for

$5.20

each.

Steve's Smoking Low Price:
10 for Only

$5.15

each.



The Experience:

If you want a Punch cigar with an extra kick to it, Punch Rare Corojo, in the distinctive red box, is the one for you.

Click HERE to Learn More about... Punch - Rare Corojo Magnum cigars.

Buy a Full Box Packaged In: Box of 25

Everyday Low Price:

$127.90

Boxes are Out of Stock



Add to Wishlist Add to Compare eMail a Friend
Punch Rothschild

Availability: 77 Sticks IN Stock

Packaged In: Single Stick, 5 and 10 Packs
Also Packaged In: Box of 50

Size:
4 1/2 x 50

Shape:

Petit Robusto
Country:
Honduras
Flavor:
Medium Bodied
Binder:
Honduran
Filler:
Dominican, Honduran, Nicaraguan
Wrapper:
Ecuadorian Sumatra, Natural

Buy 1 for

$4.55

each.

Buy 5 for

$4.10

each.

Steve's Smoking Low Price:
10 for Only

$4.05

each.



The Experience:

Not a conventional cigar, and probably not the first cigar for a new smoker to try, Punch is the straightforward, no-nonsense cigar it would have taken to bring a smile to the otherwise curmudgeonly face of Mr. Punch himself.

Click HERE to Learn More about... Punch - Rothschild cigars.

Availability: 1 Box IN Stock

Buy a Full Box Packaged In: Box of 50

Everyday Low Price:

$200.10



Add to Wishlist Add to Compare eMail a Friend
Punch UpperCut Robusto

Availability: 19 Sticks IN Stock

Packaged In: Single Stick, 5 and 10 Packs
Also Packaged In: Box of 20

Size:
5 1/4 x 50

Shape:

Robusto
Country:
Honduras
Flavor:
Medium to Full Bodied
Binder:
Nicaraguan
Filler:
Nicaraguan
Wrapper:
Ecuadorian Sumatra, Maduro

Buy 1 for

$5.60

each.

Buy 5 for

$5.05

each.

Steve's Smoking Low Price:
10 for Only

$4.95

each.



A bold new collection of handcrafted Honduran cigars developed according to the taste preferences of hundreds of consumer panelists. The result is a cigar that reveals an intriguing range of flavors at the first draw and delivers a rich, balanced finish.
Click HERE to Learn More about... Punch - UpperCut Robusto cigars.

Buy a Full Box Packaged In: Box of 20

Everyday Low Price:

$98.60

Boxes are Out of Stock



Add to Wishlist Add to Compare eMail a Friend