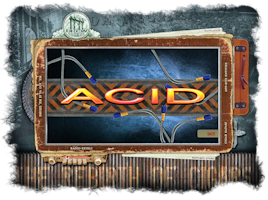 ACID CIGARS - The Aromatic Powerhouse
Expressed in four distinctly different lines every single cigar within the ACID Family is a Unique Smoking Experience.
Given the vast array and very limited production of some, it may be truly impossible for any one smoker to imbibe all the incarnations of ACID cigars.
But seeking them and experiencing each is an exalting quest.
We have these ACID CIGARS
Blondie, Cold Infusion Tea, Deep Dish, Extra Ordinary Larry, Krush Classic, Kuba Deluxe, Kuba Kuba, Ming Dynasty, Nasty, One, Roam, Sampler Tin, Wafe, 1400cc, Atom Maduro, Kuba Kuba Maduro, Toast, Liga Privada Undercrown Gordito, Liga Privada Undercrown Robusto, Liga Privada Undercrown Gran Toro, Liga Undercrown Corona Viva, Natural Dirt Petit Corona,

Click the Cigar Babes Butt to See a BIG ASS LIST of ALL the Cigars we Carry
at OldHavanaCigar.com
Acid Blondie

Availability: 63 Sticks IN Stock

Packaged In: Single Stick, 5 and 10 Packs
Also Packaged In: Box of 40

Size:
4 x 38

Shape:

Panetella
Country:
Nicaragua
Flavor:
Mild Bodied
Binder:
Nicaraguan
Filler:
Dominican, Ecuadorian, Honduran, Mexican, Nicaraguan
Wrapper:
Cameroon, Honduran

Buy 1 for

$4.85

each.

Buy 5 for

$4.35

each.

Steve's Smoking Low Price:
10 for Only

$4.30

each.



A Petit Corona with notes of honey and cream.
Videos
Click HERE to Learn More about... Acid - Blondie cigars.

Availability: 1 Box IN Stock

Buy a Full Box Packaged In: Box of 40

Everyday Low Price:

$171.10



Add to Compare eMail a Friend
Acid Kuba Kuba

Availability: 35 Sticks IN Stock

Packaged In: Single Stick, 5 and 10 Packs
Also Packaged In: Box of 24

Size:
5 x 54

Shape:

Robusto
Country:
Nicaragua
Flavor:
Mild Bodied
Binder:
Nicaraguan
Filler:
Nicaraguan
Wrapper:
Cameroon

Buy 1 for

$8.45

each.

Buy 5 for

$7.60

each.

Steve's Smoking Low Price:
10 for Only

$7.50

each.



Jam packed with lush, complex tobaccos that are taken to the extreme, placing cigar lovers and the uninitiated under its spell.
Click HERE to Learn More about... Acid - Kuba Kuba cigars.

Buy a Full Box Packaged In: Box of 24

Everyday Low Price:

$178.35

Boxes are Out of Stock



Add to Compare eMail a Friend
Acid Liga Privada Undercrown Gordito

Availability: 51 Sticks IN Stock

Packaged In: Single Stick, 5 and 10 Packs
Also Packaged In: Box of 25

Size:
6 x 60

Shape:

Gordito
Country:
Nicaragua
Flavor:
Medium Bodied
Binder:
Brazilian, Broadleaf, Habano Connecticut
Filler:
Brazil, Nicaraguan
Wrapper:
Mexican Maduro

Buy 1 for

$9.25

each.

Buy 5 for

$8.30

each.

Steve's Smoking Low Price:
10 for Only

$8.20

each.



Liga Privada Undercrown Gordito by Drew Estate : These Cigars have unique Mexican wrapper harvested 4 weeks later than usual, resulting in a higher natural sugar content and a richer, creamier flavor. The end result is an impressive medium -bodied cigar with earthy, creamy, spicy notes and a delicious black tobacco sweet finish.
Click HERE to Learn More about... Acid - Liga Privada Undercrown Gordito cigars.

Availability: 3 Boxes IN Stock

Buy a Full Box Packaged In: Box of 25

Everyday Low Price:

$203.00



Add to Compare eMail a Friend
Acid Liga Privada Undercrown Robusto

Availability: 39 Sticks IN Stock

Packaged In: Single Stick, 5 and 10 Packs
Also Packaged In: Box of 25

Size:
5 x 54

Shape:

Robusto
Country:
Nicaragua
Flavor:
Medium Bodied
Binder:
Habano Connecticut
Filler:
Brazil, Nicaraguan
Wrapper:
Mexican Maduro

Buy 1 for

$7.15

each.

Buy 5 for

$6.45

each.

Steve's Smoking Low Price:
10 for Only

$6.35

each.



Liga Privada Undercrown Robustoby Drew Estate : These Cigars have unique Mexican wrapper harvested 4 weeks later than usual, resulting in a higher natural sugar content and a richer, creamier flavor. The end result is an impressive medium -bodied cigar with earthy, creamy, spicy notes and a delicious black tobacco sweet finish.
Click HERE to Learn More about... Acid - Liga Privada Undercrown Robusto cigars.

Availability: 3 Boxes IN Stock

Buy a Full Box Packaged In: Box of 25

Everyday Low Price:

$156.60



Add to Compare eMail a Friend