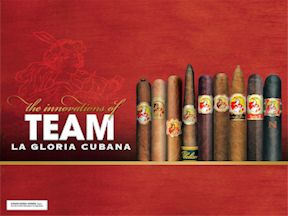 LA GLORIA CIGARS by General Cigar - the Spirit of Little Havana
Enjoy the uncompromisingly bold flavor and expert craftsmanship of La Gloria cigars.
Once Little Havana's best kept secret, La Gloria Cigars have become the cigar of choice for cigar smokers the world over who appreciate a richer, fuller-bodied smoke. Its Cuban-seed fillers and binders from the Dominican Republic and Nicaragua perfectly complement the beautifully aged wrapper to deliver a full, rich flavor that has earned the brand international acclaim.
We have these LA GLORIA CIGARS
Serie R #4, Serie R #5, Serie R #6, Serie R #7, Serie R Belicoso, Series R Gift Pack, Series R Gift Pack, 6 Cigar Gift Pack, Cigar and Lighter Gift Set, Serie N Generoso, Serie N Glorioso, Serie N JSB, Serie N Rojo, Serie R Esteli No. Sixty, Serie R Esteli No Sixy Four, Serie R Esteli No. Fifty Four, Wavell Maduro, Serie R Estelí Maduro No. 54, Serie R Esteli Maduro No.64, Cubana Esteli Gigante, Cubana Esteli Robusto,

Click the Cigar Babes Butt to See a BIG ASS LIST of ALL the Cigars we Carry
at OldHavanaCigar.com
Items 1 to 5 of 7 total
Page:

1

Show per page
Items 1 to 5 of 7 total
Page:

1

Show per page