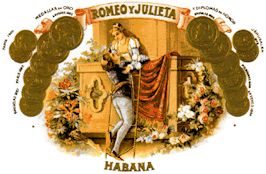 ROMEO y JULIETA CIGARS
Named after William Shakespeare's tragic lovers, the origins of Romeo y Julieta as a Habano date back to 1875.
The brand rose to international fame during the early years of the 20th Century under the direction of Don "Pepin" Fernandez, a talented promoter, who was amongst the first to recognise the power of the cigar band. During his hey day no less than 20,000 different bands were used in production. Today Romeo y Julieta is as well known around the world as ever.
Classic Medium Bodied Cigar
Romeo y Julieta's balanced and aromatic blend of selected leaves from the Vuelta Abajo region make it the classic medium bodied Habano.
We have these ROMEO Y JULIETA CIGARS
Boy / Girl, 1875 Bully, Churchill, Havana Belicoso, Havana Reserve Churchill, Havana Reserve Corona, Havana Robusto, Havana Reserva Toro, Maduro Robusto, Maduro Toro, Mini, Real Beli 3 - Pack, Real Churchill, Real Robusto, Tin, Tubes, 3 Pack Beli, 3 Pack Corona, 3 Pack Robusto, 3 Pack Toro, Anniversary Toro, Habana Reserve Tin, Reserva Real Toro, Romeo by Romeo y Julieta Robusto, Romeo by Romeo y Julieta Toro, Anejo Robusto, Anejo Toro, Romeo 505 Nicaragua Toro, Romeo San Andres Magnum, Romeo San Andres Robusto, Romeo San Andres Toro,

Click the Cigar Babes Butt to See a BIG ASS LIST of ALL the Cigars we Carry
at OldHavanaCigar.com
Items 1 to 5 of 9 total
Page:

1

Show per page
Romeo Y Julieta 1875 Bully

Availability: 51 Sticks IN Stock

Packaged In: Single Stick, 5 and 10 Packs
Also Packaged In: Box of 25

Size:
5 x 50

Shape:

Robusto
Country:
Dominican Republic
Flavor:
Medium Bodied
Binder:
Dominican
Filler:
Brazil, Dominican
Wrapper:
Indonesian

Buy 1 for

$6.75

each.

Buy 5 for

$6.10

each.

Steve's Smoking Low Price:
10 for Only

$5.95

each.



The rich caramelized flavor and sweet easy taste of the Romeo y Julieta makes it a favorite among many aficionados
Click HERE to Learn More about... Romeo Y Julieta - 1875 Bully cigars.

Availability: 2 Boxes IN Stock

Buy a Full Box Packaged In: Box of 25

Everyday Low Price:

$147.55



Add to Compare eMail a Friend
Romeo Y Julieta Havana Reserve Corona

Availability: 39 Sticks IN Stock

Packaged In: Single Stick, 5 and 10 Packs
Also Packaged In: Box of 27

Size:
5 5/8 x 45

Shape:

Corona
Country:
Honduras
Flavor:
Medium Bodied
Binder:
Honduran
Filler:
Honduran, Nicaraguan
Wrapper:
Nicaraguan

Buy 1 for

$5.30

each.

Buy 5 for

$4.75

each.

Steve's Smoking Low Price:
10 for Only

$4.70

each.



Romeo y Julieta Habana Reserve Corona is a marvelously robust cigar brimming with earthy-spicy tobacco flavors on a long finish with a sweet and spicy aroma, too.
Click HERE to Learn More about... Romeo Y Julieta - Havana Reserve Corona cigars.

Availability: 3 Boxes IN Stock

Buy a Full Box Packaged In: Box of 27

Everyday Low Price:

$124.70



Add to Compare eMail a Friend
Items 1 to 5 of 9 total
Page:

1

Show per page